Spectrum Analysis
3550R
The 3550 is the first truly portable touch-screen radio communication test system.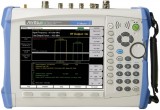 501
Now you can capture live field noise and export it to a wide variety of formats with a bandwidth of 106 MHz. The G.fast Analyzer is a Digital Storage Oscilloscope and Spectrum Analyzer in one portable, high-performance system. Perform G.fast PSD mask verification and measure the TDD inter-symbol gap with one instrument using the software's G.fast PSD and TDD analysis features.
Technologies:DSL


S412E
Ideal instrument for Land Mobile Radio (LMR) and Public Safety System : P25, P25 Phase 2 (TDMA), NXDN™, ETSI DMR, MotoTRBO™, and 700 MHz LTE public safety radio systems in the Part 90 spectrum allocations.

CMA5000a
Supports 10 Gigabit Ethernet
Supports SDH/SONET optical rates up to 10G
Supports OTN rates
Technologies:WDM (DWDM, CWDM), FTTH