Rejestrator danych
Daxus® is a smart, modern approach to data acquisition from AstroNova. This robust system lets you record and transmit data anywhere, at any time. Daxus is bringing data acquisition to the forefront of the digital age with smart phone compatibility and wireless internet connectivity. Daxus is stackable, networkable, portable and powerful data acquisition that you can use anywhere.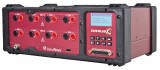 Rejestrator danych
The DDX100 SmartCorder® is an all new portable data acquisition system that includes everything you need to record, review and analyze data in one piece of test equipment. Its compact size, lightweight design and battery operation make it a very convenient system for use in industrial environments, test labs, and in vehicle testing or field service applications.

Rejestrator danych
The TMX® is AstroNova's premier data acquisition system that offers unparalleled recording capabilities with an intuitive easy-to-use touchscreen user interface. With sample rates of up to 800 kHz per channel and a wide variety of signal inputs, the TMX is a flexible instrument that can easily be configured for any application.