radio test equipment
3550R
The 3550 is the first truly portable touch-screen radio communication test system.

Seria MG369xC
Broadband signal generators covers audio, HF, VHF, UHF, RF and microwave frequencies from 0.1 Hz to 70 GHz in single coaxial output and up to 500 GHz or beyond, with external multipliers.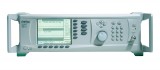 E8900A
The E8900A 5G New Radio (NR) handheld spectrum analyzer covers the landscape of new wireless communication technology with all-new levels of flexibility and efficiency for construction and maintenance of 5G NR systems. Correlative interference analysis with interferometer DF antenna and GPS mapping can locate hard-to-isolate interference signals in max accuracy. Persistence spectrum analysis separates the in-band signal transmission from underlying low-level inference signals in supreme clarity without service interruption.